Best Attack on Titan Fanfictions
In this article, I am gonna discuss about the fanfics of Attack on Titan.
This list contains fanfics with smart Eren, overpowered Eren, Attack on Titan anime parody, romance between Eren and Mikasa, time travel, thriller and mystery and being transported into the world of Attack on Titan.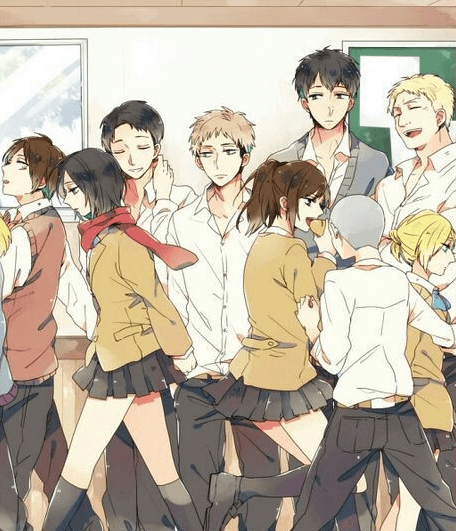 Let's get started with fanfics.
1. Slap on Titan
Description: Slap On Titan is the anime parody of Attack on Titan
Genre: Parody, Comedy
Episodes: 19
Watch:
2. Irascible
Description: Detective Erwin Smith is a family man, first and foremost. He goes to church on Sundays, he has a wife and two beautiful children, and is well-regarded by his neighbors and coworkers alike. Sure, every man has his secrets, his struggles between himself and the Lord, but Erwin has never known any man whose waters run as dark and deep as Levi's, his mysterious new partner. With Levi's arrival comes a new breed of monster leaving a trail of dead children in its wake. The clock skips a beat and before Erwin knows it, life will never be the same. A storm is coming to Southern Louisiana, the forgotten children of God have known it for a while now in their crack-houses, truck stops and the thick of the woods. The sky grows dark around the body of a little boy in New Iberia and the wrath of irascible men threatens to tear the world right open.
Status: 120K, 20 Chapters
Genre: Crime Solving, Mature, Mystery thriller
Read: Archiveofourown
Remark: A Dark thriller-Mystery AOT fanfiction with solid writing. Levi and Erwin are partners tracking down a serial killer who's leaving behind a trail of murdered children in his wake.
3. Rogue
Description: A strange but intelligent titan lives deep within the forests of Wall Maria, right under the military's nose. What happens when the mysterious titan comes across two small children and the Scouts?
Status: 878K words, 27 Chapters
Read: Fanfiction
Remarks: Explores relationship between the characters, a well written story. There is no Eren, but only his Titan form. Armin and Mikasa are kids who get saved by "Eren titan"
4. If At First You Don't Succeed…
Description: In which the 104th Cadet Corp finds themselves locked in a time-loop centered around the battle of Trost, Jean bemoans the fact that he's always the last one standing, and thus the one who has to clean up after everyone, superior officers wonder just what the hell Shadis is feeding the kids in basic, people loose dignity betting on titan fights, Armin comes up with a brilliant plan to beat the armored titan, and Marco always dies. Always
Status: 5K words, 3 Chapters
Read: Archiveofourown
Remarks: You will be surprised how good is this novel. Worth a read.
5. The Broken Doll
Description: When Mikasa Ackerman is kidnapped, she is not saved by Eren Jaeger. Instead, a thug from Wall Sina takes her under his wing.
Status: 84k words, 11 chapters
Read: Archiveofourown
Remarks: Focuses on Levi and Mikasa but not in a romantic way
6. Little Things
Description: Alternate Universe where Eren and Mikasa are married and nothing hurts too much.
Pairings: Eren x Mikasa, Armin xAnnie, Sasha x Connie
Genre: Romance and Family
Status: 21k Words, 7 Chapters
Read: FanFiction
Remarks: Mikasa becomes Mamakasa
7. The Hunter
Description: The hunter is a monster, a titan, not a boy. This is a fact he has known for as long as he has lived in the forest, for as long he can remember. The forest is quiet but for the crooning of birds, the rush of misty water into the hidden valleys and the deep lumbering steps of his kin. That is until the day that changes everything. The day the humans came. The day he saw his human.
Genre: Romance/Friendship
Status: 70k words, 21 Chapters
Read: FanFiction
Remarks: worth a read
8. Roommates
Description: Mikasa falls down on her luck, losing her job and facing the reality that she'll soon be homeless. After one late night conversation together, Eren invites her to be his roommate. But they both learn the ups and downs of living with the opposite gender.
Genre: Romance/Humor
Status: 55K words. 16 Chapters
Read: FanFiction
Remarks: Eren x Mikasa, a good story
9. Broken Heart's Resolve
Description: The power of the Attack Titan is not something any Eren, past or present, had ever really understood. Which was why Eren Jaeger, age nineteen, found himself thrown back into 850 with the old Levi Squad about to set off on their last expedition.
That's also why Eren Jaeger, age fifteen, found himself on an airship beyond the walls in the middle of a war he helped start after he only just beat Annie in a titan fight and got news that there was a breach in Wall Rose.
. . . .
Basically, S4 Eren is sent back to S1, and S2 Eren is sent to S4. And the absolute hell that unleashes.
Status: 43K words, 16 Chapters
Read: Archiveofourown
Remarks: If you live time travel, it's worth a read.
Description: A stranger from another world finds themselves in a body that doesn't belong to them but to a person of a fictitious land. However, this world is different from the one they've come to know about. There are more Titan holders. If they are to survive the fate of the person they've become, they're gonna need to shake up the status quo. Self Insert kind of.
Genre: Fantasy/Tragedy
Status: 34K words, 9 chapters
Read: FanFiction
Remarks: A good read. A guy wakes up in Elizabeth Tybur's body. He has knowledge of all events up to the Declaration of War arc.
11. Reason for Dreaming
Description: Mikasa and Armin have known each other for the past three years, having the same college major and all. It's traditional of them to study in Mikasa's dorm with her stoner roommate, Sasha. One afternoon, they opt to study in Armin's apartment, and that's where she meets his roommate. He's a fiery guy, interrupting their study session by loudly cursing over a mustard-stained shirt and a family-owned restaurant.
Status: 117K, 24 Chapters
Read: Archiveofourown
Remarks: A Lemon AOT fanfic?, Eren x Mikasa
12. Attack on Titan: A Blacksmith's Tale (REMASTERED)
Description: When Wall Maria falls to the titans, a young blacksmith from Wall Sina enlists in the 104th Training Corps, determined to make a difference for the survival of humanity. But he didn't expect to catch the interest of a cold blond girl named Annie, who carries a terrible secret. It's a good thing he holds his own power to even the odds.
Status: 439K words, 79 Chapters
Read: FanFiction
Remarks: A great OC story. Highly Recommended [OC refers to original character made by the author which didn't exist in the original story]
---
Thanks for reading. What did you think about the fanfics on this list? Did I miss any of your favorites? Do Let me know in the comments.
---
Recommended Buy:
The links below are affiliated meaning at no additional cost to you, I will be earning a commission if you decide to buy the products. This helps support the site.
Attack on Titan Anime/Manga/Items
Solo Leveling Comics(The comic with badass MC and best art)
Lord of the Mysteries(My Most Favorite Novel)
Beauty and the Beasts(Most Popular Comic with over 190 Million Views)
My Vampire System(Most Popular Novel)