After WuxiaWorld announced they have put the web novels I shall Seal the Heaven and City of Sin on Amazon, I stumbled upon other web novels there. Prior to that, I didn't know there were web novels on Amazon.
Dive into Endless Stories with Webnovel
From exclusive novels, fanfics, R18 stories to popular comics like Omniscient Reader's Viewpoint, Only I level up (Solo Leveling), and Tales of Demons and Gods, Webnovel is your gateway to a universe of captivating stories.
Then I started searching for other Web novels and so far found around 30 web novels. Actually, there were more than that number but let's not count the novels from BabelNovel [ Babel Novel has Machine Translated novels. ]
Related: Top 60 Cultivation Novels You Should Read
You must be wondering Why Buy the Novels from Amazon? There are many reasons which I have listed below:
Direct Support to the Author
Comparatively cheaper than reading those novels on Webnovel
Final Good Quality Product with re-editing and many corrections.
The main reason would be number 2. Webnovel is expensive and I think reading the novels from Amazon is comparatively cheaper. Amazon can be a good alternative for those who don't wanna spend money on Webnovel but wants to read the novel and support the author.
Before getting started with the list, I wanna add two more things.
I have read some reviews of the web novel on Amazon saying there are Quality issues like typos and bad translations. Research before you buy. And,
As an Amazon Affiliate, I will be earning a commission, without any additional cost to you, if you buy through the link.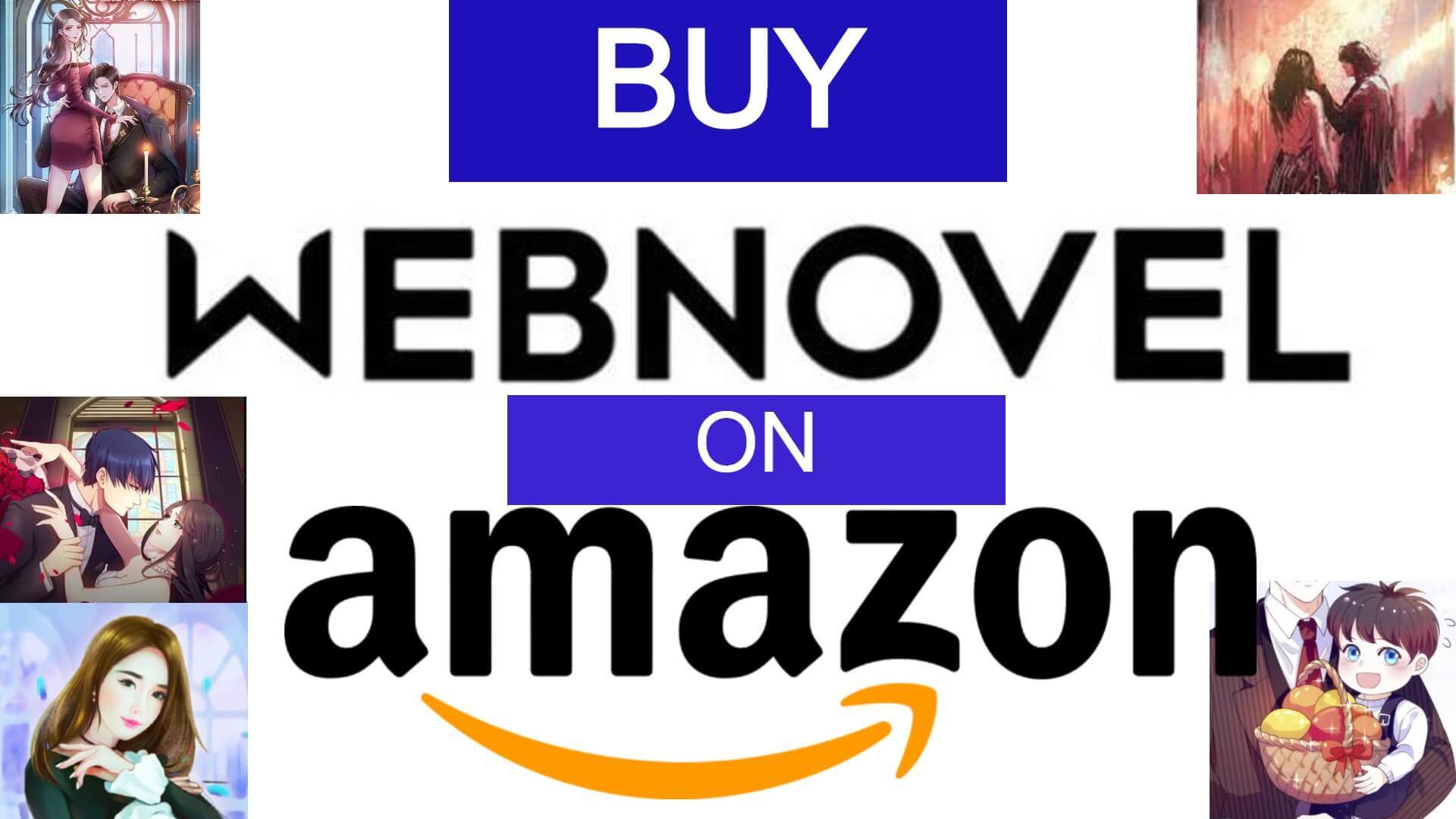 Now Let's Get started with the List.
The Novels are Sorted in Random Order.
Top Chinese Novels to Read on Amazon
Full Marks Hidden Marriage: Pick Up a Son, Get a Free Husband [ Favorite Romance Novel ]
Synopsis:
After five years, Ning Xi has returned and is out to take revenge on the sister who turned her parents against her and the childhood sweetheart who betrayed her for her sister. She aims to fulfill her childhood dream and become a famous actress. However, her sister is still out to get her, and she has to avoid all her underhanded schemes. One day, after falling into one of her sisters' schemes, she meets an adorable kid and saves him. This is how Ning Xi found herself staying at the autistic little kid's house to help him come out of his shell. Slowly, his father, Lu Tingxiao, starts falling for her too.
My Opinion: This is a fine romantic comedy novel. This was the first romance novel I read on Webnovel and despite having cliches and cringe, it was still enjoyable for binge reading. This is an extremely long completed novel with 2164 chapters. Try reading this story, you will enjoy it. If you enjoy a good comedy, showbiz, drama, and romance, this story is for you.
I Shall Seal the Heavens [ Favorite Cultivation Novel ]
Synopsis:
I Shall Seal the Heavens is the story of the young scholar Meng Hao, who gets forcibly recruited into a sect of immortal cultivators. In the cultivation world, the strong prey on the weak, and the law of the jungle prevails. Meng Hao must adapt to survive. Filled with both comedy and drama, I Shall Seal the Heavens remains one of the most beloved xianxia stories ever translated. What does it mean to "Seal the Heavens?" This is a secret that you will have to uncover along with Meng Hao!
My Opinion: This novel is my gateway to cultivation novels. If you are a beginner in the Cultivation genre, I recommended this novel. You won't regret reading this novel. This novel has a vast world that you will find yourself lost in just a few chapters. Romance and comedy are really well done. There were many moments in the story where my heart raced and my eyes got filled with tears. If you love action, adventures, romance, and humor- all well balanced- then this story is for you.
Coiling Dragon
Synopsis:
Raised in the small town of Wushan, Linley is a scion of the Baruch clan, the clan of the once-legendary Dragonblood Warriors. Their fame once shook the world, but the clan is now so decrepit that even the heirlooms of the clan have been sold off. Tasked with reclaiming the lost glory of his clan, Linley will go through countless trials and tribulations, making powerful friends but also deadly enemies.
My Opinion: The storytelling is good and the actions are very detailed. A young boy belonging to a now decrepit clan sets out on a journey through dimensions filled with happiness, sorrow, love, loss and an unending desire to right the wrongs he and his family have experienced. It's such a story that once you start reading, you won't be able to stop yourself to stop. This novel has a certain western feel to it. If you like the Xuanhuan genre or have no idea about it, then this novel will open a new amazing world for you.
Perfect Secret Love: The Bad New Wife is a Little Sweet
Synopsis:
In her past life, her mind was muddled. She tried to get rid of the outstandingly beautiful husband that she didn't want, was victimized by slag men and cheap women, and her most trusted friend brainwashed her. In the end, she found people rebelling and friends deserting (isolated and alone). In this lifetime, all of the evil people scheming and longing for her divorce should yield. Sorry but this young miss's IQ is on the line!
My opinion: I have read around thousand chapters of this novel and I have to say this novel is good and kind of unique too. I am generally very skeptical of this type of novel and having read this novel while readying myself to face the cringe, I was surprised to find out this novel was a fine read. If you like strong female lead, drama, comedy, and female lead fighting, you should read this novel.
Reincarnation of the Strongest Sword God
Synopsis:
In this MMORPG style, video gaming light novel where the game has become equally relevant to events in the real world, Shi Feng has been given a second chance. This time, he will not be controlled by others. In his previous incarnation, he became the Level 200 Sword King, but he will rise to a higher peak in this life. With reincarnation comes knowledge of what most deem unknowable: Methods to earn money! Dungeon conquering strategies! Legendary Quests! Equipment drop locations! Undiscovered battle techniques! Secrets of which even the Beta Testers are unaware… He knows them all… Massive wars, life advancement, entering Godhood, sword skill reaching its peak; this is merely the beginning of the legend surrounding Shi Feng becoming the Sword God. Follow his trials through this and many more books to come!
My opinion: This novel is one of the most popular web novels. I classify this novel as a junk novel. Even though we know it's not that good but still, it's very addictive to read. If you enjoy MMORPG-style novels, give this novel a shot.
King of Gods
Synopsis:
Zhao Feng never expected to amount to much. Coming from a small side branch of the main family sect, with only his deep commitment to hard work and perseverance to set him apart enough to allow him to be sent to the main sect for training, his prospects weren't great. However, his left eye accidentally merging with that of an Ancient God's changed all that in the space of a heartbeat! Suddenly Zhao Feng developed powers and abilities beyond what he'd ever dreamed, and only his imagination (and his own arrogance) could limit his potential. Will he walk the path of a great cultivator and become one of the foretold legends or will he burn up from the heat of his own glory? Will he remain a mere fish, or become the dragon his god's eye foretells?
My opinion: A fine Xuanhuan story. Even though this cultivation-themed novel feels generic at first, it manages to stand out from other cultivation stories as the story progresses. We don't have a main character who starts killing without a thought, and someone who shows off his power for no reason like in other stories. Though this cultivation novel feels lacking in some areas like romance, side character development, etc, it still is a good story to read if you like reading cultivation stories.
Versatile Mage
Synopsis:
Our hero, Mo Fan, inherits a magical necklace — the next day, he wakes up to find that the world has changed. His high school now teaches magic, and students are encouraged to try and become accomplished magicians. The world that ran on science is now going on magic. Some things are still the same, however. He still has a teacher who sees him as a hopeless student, classmates who look the same, a father who struggles to make ends meet, and a little sister who can't walk on her own. But Mo Fan discovers that the vast majority of magicians can only use one element of magic. But as luck would have it, he's an exception — a versatile mage!
My opinion: A fine story with a slow pace at the beginning. I recommend watching the Anime adaptation of this novel [ Watch Anime ]. Season 1 and Season 2 Anime of this story is good. Then you can start reading from around chapter 150. If you are someone, who loves the main character shock people with his powers, and someone who likes to see the main character fight for his own belief, this is the story for you.
Doomed To Be Cannon Fodder
Synopsis:
While Liu Yangyang reads the web novel, The Lord's Escaped Consort, her hand accidentally bumps into a cactus. As she stares at the blood on her fingertips, the world around her suddenly blurs. The next thing she knows, she's being addressed as Bai Xiangxiu, the stunningly beautiful minor character that has a gruesome ending in the book! Unable to figure out a way home, she decides to find a protector in the good-tempered Song Jiaoyue, her husband Long Heng's best friend. However, things don't go as planned, and Long Heng's interest in her seems to grow every day. Will Bai Xiangxiu be able to escape her fate?
My opinion: A good romance novel. I was impressed by the plot, humor, and also by the female read. A small problem with this romance novel is that towards the end, the whole story went downhill. While it managed to pick itself up a bit, the ending was lacking compared to the start. But still, this is a good story to read. If you love the transmigration romantic comedy novel, check this novel out.
The World Online
Synopsis:
Betrayed by his sworn Brother, Ouyang Shuo miraculously finds himself 5 years in the past. Only this time he would embark on a whole different path, using his 5 years of knowledge to build an empire. Novel contains the technical aspects of kingdom building like setting up different departments and divisions, as well as the war aspect that everyone knows and loves. Read on as the MC climbs his way to the top against all odds!
My opinion: A fine Kingdom building novel which is unique at first and later gets boring and boring. Then the author starts to add new things which make it enjoyable as we read. Overall, an average novel with kingdom building and an interesting plot, and the main character who goes back to past. If you love this, this novel is for you.
Hidden Assassin [ My Favorite Novel ]
Synopsis:
One of the top expert killers, tired of endless assassinations and having survived a cruel and suppressed life, decided to escape the world's strictest assassin organization. A chance came during one of the nights when the organization was least prepared, and he fled. However, he discovered that the night he escaped was the night when the organization had sent out many experts and ability type users to capture a phoenix weakened by its rebirth. Eventually, when surrounded and knowing that his situation was hopeless, he desperately shot at the ability user blocking his way. This helped the phoenix break out of the encirclement and grant him his one and only wish – freedom. The assassin's soul was sent back to his ten year old self. He woke up at a point in time that would allow him to drastically change his fate – he killed the two assassins that picked him up and brought him to the organization. Thus, he began a brand new life. Two naive little girls and one experienced boy living together and filling their days with warm memories of childhood…
My opinion: ONE OF MY FAVORITE NOVEL. It has everything– romance, comedy, action, adventures… EVERYTHING. Sadly, it hasn't been updated. Highly Recommended to anyone who loves a badass main character, a good harem, unlimited action, and adventures.
The Lord's Empire
Synopsis:
"Ding! Soulbinding has been successfully completed; you will now head to the Heaven Awaken World." After hearing this, Zhao Fu's vision darkened as he fell to the ground. With bleak prospects in the real world, Zhao Fu's life is turned around when countless crystals fell from the sky one night, which people could use to enter an alternate, game-like world. After obtaining an ancient Chinese empire's legacy, Zhao Fu uses his intellect and resourcefulness to develop his own empire from a tiny village. However, with enemies both in the real world and in the Heaven Awaken World, he must make brilliant decisions and use creative schemes to survive.
My opinion: Another one of the Chinese Junk Novel which is kinda popular. I dropped the novel around chapter 30. If you love game-based novels with kingdom-building elements, try this novel.
Our Glamourous Time [ Favorite Romance Novel ]
Synopsis:
Lin Qian once thought the man she wanted would be handsome and formidable, able to "create clouds with one turn of the hand and rain with another turn" in the business world, causing her to look up to him in admiration. There would be nothing he could not accomplish. But when she finally met the one that fit this, she realized how much she liked his impassiveness, his quietness, his persistence, and his loyalty. She liked him to the point that she was willing to be with him, to stand side by side with him in this callous business world that is full of bloodshed. To be reckless in these years of our life, irrespective of the future. ———————– An encounter, ordinary and dull like flowing water, produced the most dramatic and best years for him and her.
My opinion: A Good Romance Story. This novel also has a drama adaptation. [ Drama Adaptation ] If you love a romance novel with a power couple, humor and that has no misunderstandings, cliches, and cringe, highly recommending this novel to you.
Here's a short review of this novel
Super Gene
Synopsis:
In the magnificent interstellar era, mankind has finally developed teleport technology, but when trying to teleport, they are not sent to the future, the past, or any land known to men… This mysterious space is called God's Sanctuary, where lived numerous unknown creatures. Here, humans will make the greatest leap in their evolution to create the most glorious epoch in history. "Sacred-blood creature black beetle killed. Beast soul of sacred-blood black beetle gained. Eat the meat of sacred-blood black beetle to gain 0 to 10 geno points randomly."
My opinion: Another one of the novels which everyone seems to love but this novel is a fine read for me. If you like a story where the main character hides his identity for the most part of the novel, try this story out.
So Pure, So Flirtatious
Synopsis:
Yang Ming is an underachiever in high school. He skips class to shoot pool, cheats on his exams and gets into fights. However, by a twist and turn of fate and luck, he obtains some high-tech contact lenses that give him superpowers and dramatically change his life. As his journey unfolds, he battles against society's big guns and attempts to bring justice into an unjust world. Along the way, he has many interesting and romantic encounters with the ladies who are charmed by his character. How will he use his superpowers? Will he be able to overcome evil and bring justice to the world?
My opinion: A fine wish-fulfillment novel with clichés and cringe. Good for a casual read only.
Library of Heaven's Path
Synopsis:
Traversing into another world, Zhang Xuan finds himself becoming an honorable teacher. Along with his transcension, a mysterious library appears in his mind. As long as it is something he has seen, regardless of whether it is a human or an object, a book on its weaknesses will be automatically compiled in the library. Thus, he becomes formidable. "Emperor Zhuoyang, why do you detest wearing your underwear so much? As an emperor, can't you pay a little more attention to your image?" "Fairy Linglong, you can always look for me if you find yourself unable to sleep at night. I am skilled in lullabies!" "And you, Demon Lord Qiankun! Can you cut down on the garlic? Are you trying to kill me with that stench?" This is an incredible story about teachers and students, grooming and guiding the greatest experts in the world!
My opinion: A good comedy novel with lots and lots of face-slapping. One problem is the repetitive plot which can be annoying for most but if you just read it casually, it is a good comedy novel to read with cultivation.
Read What went wrong with Library of Heaven's Path
I Refuse To Be a Supporting Character
Synopsis:
What if you became the novel's supporting character? Gu Jin was transported inside a novel as the supporting character and best friend of the female lead, Cheng Xin. Cheng Xin was frequently surrounded by men of status and quality. As Gu Jin was the female lead's dearest friend, she didn't mind settling for the leftover meager soup should the female lead choose to eat the meat. The two best friends believed they'd enjoy this friendship for a lifetime until she discovered that her destiny was doomed. Her marriage would end in utter failure. The female lead who often quarrelled with the male lead would seek Shao Chong's comfort and presence. Moreover, Shao Chong was Gu Jin's husband! After several incidents, Gu Jin advised Shao Chong to have a sense of propriety as her husband, but he waved it off, told her not too think too much about it, claiming that he only had a pure friendship with Cheng Xin. Nothing more. But on the day Gu Jin was kidnapped, her good husband stayed by the female lead's side and accompanied her to the hospital. Realizing what would become of her future, Gu Jin was determined not to waste this life as the female lead's supporting character. She would not live her life as a spectator in someone else's love story. No, she would be the protagonist of her own romance.
My opinion: Haven't read this one. From what I have gathered it's an average romance novel with a weak female main character and a cold male lead. Again good romance story for a casual read.
City of Sin
Synopsis:
Every drop of this family bloodline is stained with sin. They are the embodiment of contradiction; calm yet maniacal, with great memories yet often forgetful. They pledge themselves to their dreams yet often compromise, are angels that are also devils… It's why I hate them. And also love them. The only hope of his family, a youth with the blood of elves and devils walks on a battleground of annihilation and rebirth. He wills his way through boiling lava and icy depths, killing on this field of despair to strike down the lofty figure in his sight. One day he'll grasp his blade tightly and survey his surroundings, only to find no more enemies to kill.
My opinion: A fine story with good world-building with western fantasy elements. The characters are very well written. If you love a dark novel with good world-building and character development, then read this novel.
Sovereign of the Three Realms
Synopsis:
Jiang Chen, son of the Celestial Emperor, unexpectedly reincarnated into the body of a despised young noble, thus embarking on the path of the underdog trouncing all commoners. No one has the right to call himself a genius in front of Jiang Chen, as no one has a better understanding of the heavens than the son of the Heavenly Emperor. "Genius? He who adheres to me shall ascend. Those who oppose me can find solace in hell!"
My opinion: Dropped because of Repetitive plots, clichés, and tropes. If you like a cultivation story that is generic and you have nothing else to read, then try this novel out.
Everlasting Immortal Firmament
Synopsis:
The world is like a chessboard. "I do not want to be treated as a chess piece by the players!" Defeat in this chess is tantamount to the destruction of my body and I'll thoroughly disappear! Victory in this chess and I'll have a very long life! With the help of an ancient Weiqi piece, Gu Hai arrived at the Divine Province Mainland! Heavenly Dao is eternal, however life is limited, making heaven and earth pieces of a chessboard, then in the end transformed into a loess, vanishing like faded smoke and scattered clouds. Nevertheless people still jump out of the chessboard, and these people are already prepared for their death while playing chess against the heavens, and perhaps win eternal life for themselves? "I've come, and I want to live through 10,000 lives without any boundaries!"
My opinion: A novel with an intelligent Main character. This novel is about conquering cities, countries, and kingdoms. The main character tries to create his own kingdom, I like the main character. He likes to plan and make things go according to his plan. A very different Chinese novel than others. If you like intelligent main characters and kingdom building, this novel is highly recommended.
Watch Anime Adaptation on Youtube
Way of Choices [ Top Favorite Cultivation Novel ]
Synopsis:
To pick is to choose. This is a story about choices. Three thousand worlds full of gods and demons, with a daoist scroll in your hand, you are able to control the entire universe… At the beginning of time, a mystical meteor came crashing down from outer space and scattered all over the world. A piece of it landed in the Eastern Continent. There were mysterious totems carved upon the meteor. Through viewing these totems, mankind comprehended the Dao and established the Orthodoxy. Several thousand years later, the fourteen years old orphan Chen Changsheng left his master to cure his illness and change his fate. He brought a part of a marriage vow with him to the capital, thus beginning the journey of a rising hero…
My opinion: Every moment in this novel, I found myself surprised- Surprised because of the plot and again surprised by how well written this story is. Everything about this novel is top-notch. One of the Best Cultivation Novel, Don't Dare to Miss this Novel.
Watch Anime Adaptation
Demon's Diary
Synopsis:
Liu Ming, since he was young, lived in a savage prison named Savage Island where the prisoners aren't controlled by any guard or security. When the island sinks due to "mysterious" events, only a handful of people survive – those survivors are then pursued by the government. On the other hand at another place two practitioners are worrying about what will happen to them because the young master that they were supposed to protect had died. Their young master just so happen to looks nearly like our hero… What will happen? Where will Liu Ming ends up and in what will he do ?
My opinion: A fine Cultivation Novel. What makes this novel stand out is from other generic cultivation novels is the plot which is highly detailed, the main character who thinks and then acts, characters who don't feel one-dimensional, and the good world-building. Read this novel if you want "different" in the cultivation novel.
Godsfall Chronicles
Synopsis:
The nuclear holocaust which caused the collapse of the Old Times on Earth should have wiped out all human life on the planet. Yes, the gods set up their beautiful Elysiums to provide sanctuaries for their chosen, but by all rights everyone outside the elysian lands should've perished long ago. Yet somehow, human life still managed to persist, even in the deadly, mutant-infested wastelands. Cloudhawk was a young scavenger who dreamed of being as free as the hawks in the skies, yet seemed destined to live out his life scrounging for scraps in the wasteland ruins. Fate, however, is ever-fickle. A chance meeting with a ragtag group of mercenaries changed the trajectory of his life, bringing him into a world with mutants and metahumans, demonhunters and godslayers, and even gods and demons. Cloudhawk would find his own place in a world that was far greater than he had imagined, find his own path between the zealous light of Sumeru and the whispering darkness of the Abyss… and one day, he would find that even gods may fall.
My opinion: Haven't read this novel. But here's a summary of this novel. Non-stop action,
a unique post-apocalyptic storyline, Kill or be killed situation, Mutated beasts, mutated people, mutated world and Superpowers. If you like all of these then check this novel out. (Source: Novelupdates )
Release That Witch [ Favorite Fantasy Novel ]
Synopsis:
Chen Yan travels between worlds, ending up becoming an honorable prince in a medieval fantasy world. Yet this world was not quite as simple as he thought. Witches with magical powers abound, and fearsome wars between churches and kingdoms rage throughout the land. Roland, a prince regarded as hopeless by his own father and assigned to the worst fief, spends his time developing a poor and backward town into a strong and modern city, while fighting against his siblings for the throne and absolute control over the kingdom. Join Roland as he befriends and allies with witches and, through fighting and even farming, pushes back invaders coming from the realm of evil.
My opinion: Best Kingdom Building Novel. Transforming the Medieval age with the use of technology. Good World Development, Plot development, character development, good romance, and many more. The story does move downhill towards the end but still highly recommending this novel to Everyone. Don't miss this novel.
Honorable Mentions
Evil Emperor's Wild Wife

World Defying Fierce Young Miss


Immortal and Martial Dual Cultivation

Peerless Battle Spirit

Legitimate Daughter Never Be Concubine

Evil Husband won't Leave

Good-for-Nothing Seventh Princess [ Recommended ]

Carry-on Space: Reborn To Be a Smart Wife

Legitimate Daughter, Arrogant Consort

Enchanting Alchemist
Generic Novels
These Novels are from Babel and may have Quality Issues
Supreme Conquering System

CEO Ex-Husband Begs to Remarry: Billionaire Possessive Romance

Returning after 10000 Years Cultivation

Godly Talent Duplicate System

Strongest Instant Upgrade System

Reborn Medicine King

Dan and Martial God of the Other World

Recycle System Upgrades Instantly

One-click Cultivation System

Urban Hardened All-area System