In this article, I have listed down 11 Best Novels (Web novels and Light Novels) with Smart Main Characters.
The main characters in the list are not all the saints, some are devils who will devour and massacre everything and everyone for their goals using their wits and intelligence.
Smart protagonists are those who plan ahead of time and are constantly one step ahead of their opponents. Smart characters maintain a calm demeanor while planning their next move. They plot and scheme to fight or to protect their friends and family.
Table of Contents:
Some of the links below are affiliated, meaning at no additional cost to you, I will be earning a commission if you purchase through the link.
11. Classroom of Elite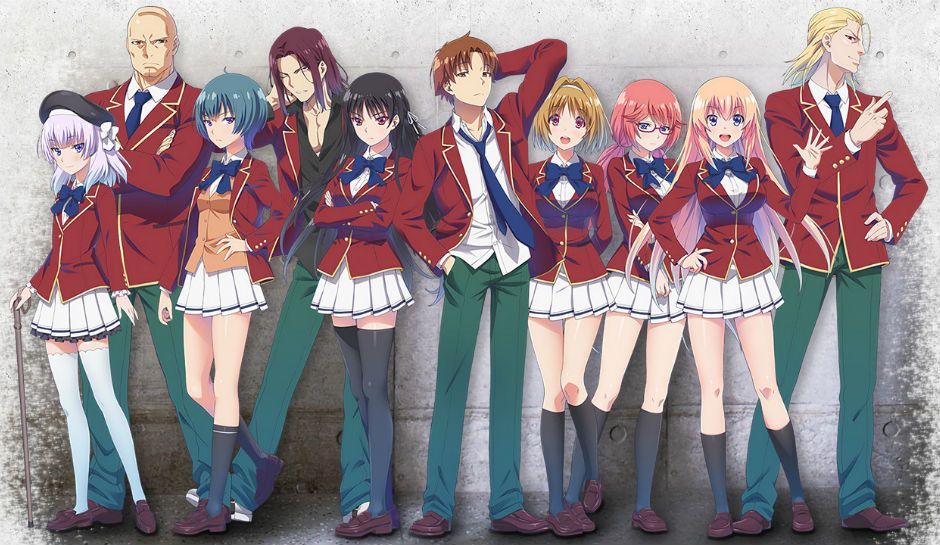 The protagonist Kiyotaka Ayanokōji is a student of D-class, which is where the school dumps its "inferior" students in order to ridicule them. For a certain reason, Kiyotaka was careless on his entrance examination and was put in D-class. After meeting Suzune Horikita and Kikyō Kushida, two other students in his class, Kiyotaka's situation begins to change.
Classroom of Elite light novel has 8 Volumes translated
Buy the Novel: Amazon | RightStuffAnime
10. Divine Throne of Primordial Blood
After Su Chen lost his sight in an unfortunate, unanticipated encounter, he started seeing his way to success more clearly than before and tried to turn the most tragic fates possible in the human realm and fought on.
Divine Throne of Primordial Blood web novel is completed at 1158 Chapters
Read the Divine Throne of Primordial Blood on WuxiaWorld
9. Genius Prince's National Revitalization from State Deficit
Wayne, the young prince of a small kingdom, is a lazy, selfish, and cowardly individual. He is, nonetheless, smart and clever. He understood full well that his country could not be saved, so he proceeded to make up plans to surrender to the big countries. However, In one way or another, things don't go as planned
Genius Prince's National Revitalization from State Deficit light novel has 6 volumes translated.
Buy the Novel: Amazon | RightStuffAnime
8. Log Horizon
Thirty thousand Japanese gamers who were all logged on at the time of the update were all transferred into the game world and given in-game avatars.
In the midst of the event, Shiroe, a socially awkward gamer, and his friends Naotsugu and Akatsuki decide to band together in order to tackle the obstacles that lay ahead in this world that has now become their reality.
Log Horizon Light novel has 11 Volumes translated
Buy the Novel: Amazon | RightStuffAnime
7. Joy of Life

The plot revolves around the life of Fan Xian, a young man who was given a second chance at life and was reincarnated into a new world with the memory of his previous life. Because of a disease, he spent the majority of his previous life in the hospital. He wants to live to the fullest now that he has been reborn, savoring the joys of his new life.
Joy of Life web novel is completed at 746 Chapters.
6. Great Tang Idyll
A con-man and policewoman that are legends of their respective professions suddenly die, then are reincarnated and return to the Tang Dynasty of ancient China as little kids.
Accepting their second chance and forced restart, they choose to use the modern knowledge and specific talents that they have in their previous lives in order to live comfortably in this new life.

Great Tang Idyll web novel is ongoing at 166 out of 1270 Chapters
5. No Game No Life
Our Protagonists, Sora and Shiro, a brother and sister, are transported into a fantasy world with magic. What's interesting about the world is its battle system, which is Games. There are no swords, guns, or any other weapons. All conflicts, from petty disagreements to wars are solved with games. Board games, video games, card games, even rock paper scissors!
No Game No Life light novel has 10 Volumes translated
Buy the Novel: Amazon | RightStuffAnime
4. The Grandmaster Strategist
Jiang Zhe, a man from a poor background, has finally passed the imperial examinations and is now a scholar at Hanlin Academy after ten years of hard effort.
He unintentionally becomes entangled in the Great Yong Dynasty's succession conflict. He's up against intrigues and schemes, as well as a never-ending war of power and schemes. He uses his intelligence and knowledge to establish a solid environment for himself and his companions to survive in this conniving world.
Watch nations fall, great men rise, and supreme martial artists kneel before the quiet whispers of a frail, unassuming scholar.
The Grandmaster Strategist web novel is ongoing at 208 out of 224 Chapters
Read The Grandmaster Strategist novel on Wuxiaworld
3. Warlock of the Magus World
Leylin, a scientist from a futuristic world, reincarnates in a World of Magic and Knights. Dark, cold, and calculating, Leylin makes use of all his resources as he sets off on his adventures to meet his goal.
Warlock of the Magus World is completed at 1200 Chapters
Read Warlock of the Magus World on Webnovel
2. Reverend Insanity
[ Warning: Those who are faint-hearted, please don't read this novel. ]
Insanity, bloodbath, schemes, manipulations, conspiracies, complex plots, and the cruel, witty, and intelligent main character, I am sure you won't find all these in other novels except Reverend Insanity. Reverend Insanity is one of a kind. It's a unique story with fantastic storytelling, an excellent world, and character-building as well as a highly detailed plot.
The novel follows the Crazy Antihero Protagonist, Fang Yuan, who is reborn 500 years ago in the past. With his wisdom, experiences, schemes, and determination, he is again set on the journey to the path of immortality.
Reverend Insanity Web novel is completed at 2334 Chapters (Banned)
Read Reverend Insanity on Webnovel
Also Check out: Reverend Insanity: 8 Novels To Read If You Loved The Novel
Read the New Book by the author of Reverend Insanity web novel: Reverend Insanity's Author New Book is Finally getting Translated
1. Lord of the Mysteries
We follow Klein Moretti as he explores the world filled with machinery, cannons, dreadnoughts, airships, and different steampunk machines. This story is his adventure to uncover mysteries one by one and how he gets stronger while gathering various people from different places and forms an organization together with them to influence the world.
Read My Review of Lord of the Mysteries
Lord of the Mysteries web novel is completed at 1394 Chapters.
Read Lord of the Mysteries on Webnovel
Also Check out: Top 7 Novels similar to Lord of the Mysteries
---
Thanks for reading. Do comment your favorite intelligent protagonist and novel. I will be sure to add on the part 2 of this list.