The Best Novels to read on Webnovel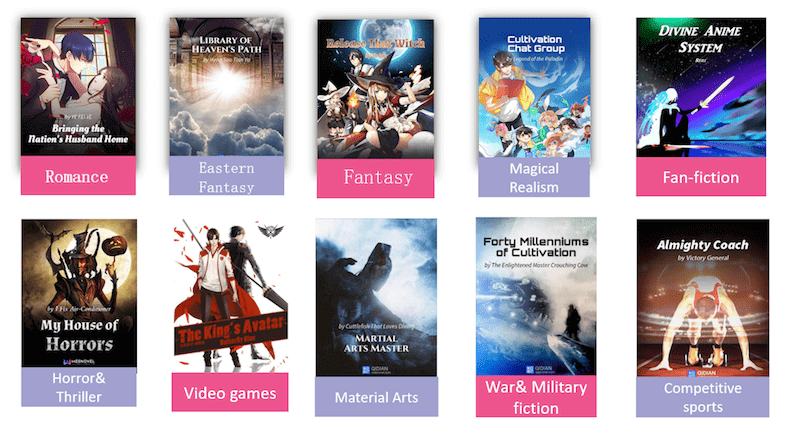 Webnovel is a novel reading site with thousands of translated titles. Webnovel offers original creators a platform to get their stories out, and most of the titles are in Chinese and Korean.
Download the Webnovel App to read thousands of original and translated novels and Manhwa
But here, I will only be covering translated novels.
Some of the links are affiliated.
Let's get into the list. The novels are sorted in random order.
1. Lord of the Mysteries
Lord of the Mysteries is my number one novel, and I recommend it to everyone, every time.
The plot is full of fantasy and supernatural elements. Set in the Victorian era, this steampunk novel has great world-building, smart characters, great fight scenes and many mysteries to be uncovered. The author slowly releases more and more secrets as the story goes on in a wonderful way.
The magic system is awesome. I have never seen such a great and logical power system anywhere else, as no system is overpowered and each has its limitations.
You can read my full-length review on this novel Lord of Mysteries Review, and you can read Lord of the Mysteries on Webnovel. It is a completed novel with 1394 chapters, and also has a comic with the same name, also on Webnovel.
Also Read: Top Novels similar to Lord of the Mysteries
2. Cultivation Chat Group
Get ready to ROFL. This novel is hilarious. There is cultivation, fights, adventures, and so on, but this novel focuses solely on making us laugh.
A college student is accidentally invited into a chat group full of cultivating individuals, from a simple loose cultivator to sect leaders. What would a normal person think? Our MC thought the same: these people are mentally ill.
From there starts a great comedy adventure following our MC to the world of cultivation to achieve immortality.
You can find the novel on Webnovel. There are a total of 3165 Chapters, however, only 1372 chapters have been translated so far, with one new chapter a day, and also a comic.
3. Release that Witch
Release that Witch offers easy reading, amazing world-building, kingdom building, and military building.
The main character, Chen Yan, a Chinese mechanical engineer who died due to overwork, gets transported into the body of a useless Prince, Roland. The setting is a medieval world with magic, witches, and many more fantasy elements. Roland can't use any magic, or wield a sword, or fight, but has the ability to build guns, cannons, and many other technologies. Watch Roland as he starts his quest to win the throne and save the witches from the Church with the help of his modern-day knowledge.
You can read Release that Witch on Webnovel. The novel is complete with 1498 chapters. There's also a comic of the same name.
4. My House of Horrors
Yes, it's a horror novel and probably the single best horror novel on Webnovel. This novel is well thought out, amazingly written, and beautifully translated. Warning! This novel can give you chills.
The storytelling is very detailed. Every character has a depth to them and feels realistic. We can feel their pain and struggles. You will even feel the emotions of the ghost when reading. There are many mysteries and the main character slowly uncovers them, one by one. The main character of this novel is calm and steady, making rational decisions in complex situations and analyzing individual clues.
What more do you need! You should definitely check this novel out. It is ongoing with around 1000 chapters translated out of 1200. Find it on Webnovel.
5. Superstars of Tomorrow
Superstar of Tomorrow is a brilliant SciFi Novel. The main character focuses on music, so if you are a music fan this might be for you.
The story centers on Fang Zhao, a composer, who fought in the apocalypse, only to die right before it finally ended, and then reawakens years later in a body with the same name. In these relatively peaceful times, he gets the chance to use his musical talent again.
We explore the new world after the apocalypse together with the main character. It's a vast new world, yet the author presents it in a simple way. There are no bad-ass villains, no romance, and few fight scenes. The novel is fun and very relaxing to read. It also has a great sense of humor and character development.
The novel is complete in raws with 507 chapters, of which 482 are translated so far. Find the story on Webnovel.
6. Joy of Life
To describe Joy of Life in a single phrase: scheme after scheme and twist after twist.
Joy of Life is a politically intrigued novel with well-balanced humor, romance, and action. Rich in its writing and translation quality, the world and character development is simply great.
You can't help but love the characters even if they are evil, as they feel very realistic. The main strength of this novel is its focus on politics. Here, rather than people with supernatural strengths, people with better strategies win.
Be sure to check out my review for this novel is Joy of life Review. With 746 Chapters, Joy of Life is completed, so catch on Webnovel!
7. Solo Leveling
The Solo Leveling web novel is an amazing and captivating read, filled with supernatural and fantasy elements. The setting is simple. One day "Gates" starts appearing all over the world out of nowhere and people start awakening magic abilities in order to close these gates.
It is such a popular novel that there's a manhwa adaptation. You can find the Solo Leveling Light Novel on Amazon. Solo Leveling has also been adapted into a manhua with amazing art.
Our main character starts the story from zero. He is called "The World's Weakest Hunter", and is doing many missions in order to pay for his comatose mother's treatment and his younger sister's education. After a mission goes wrong, the main character, Sung Jin-Woo awakens an unprecedented ability that enables him to level up his abilities. The story follows Sung Jin-Woo's growth from Zero to Hero.
Solo Leveling is a Korean translated novel, highly praised for the art of its comic adaptation. You can try both the novel and the comic out on Webnovel. The novel is complete with 270 chapters.
I still remember this panel literally gave me chills
8. Night Ranger
I found this novel very underrated. Few people paid attention to it in spite of its great rating on the site.
Night Ranger offers some of the best world-building in web novels, featuring a fantasy-game world of gods, demons, legends, devils, liches, dragons, and other mystical creatures.
Legendary player Marvin gets transmigrated to this game world, which he played before, in the eve of the Great Calamity. In order to protect his loved ones, Marvin has no other choice but to become stronger, for which he chooses to delve into the shadows. This is the story of a young ranger growing into the Ruler of the Night during the Chaos Era.
This novel has a complex plot presented in a simplistic way, a rich power system, awesome fights, and amazing character development. It also delves into many mysteries one by one to form larger arcs.
The novel is complete at 735 chapters. You can find the story on Webnovel.
9. Omniscient Reader's Viewpoint
The premise of the novel is simple.
One day the MC finds himself stuck in the world of his favorite webnovel. What does he do to survive? It is a world struck by catastrophe and danger all around!
His edge? He knows the plot of the story to the end, because he was the sole reader that stuck with it. Read his story to see how he survives!
Hence the title, Omniscient Reader's Viewpoint. You would think since the MC already knows what's gonna happen, he will be OP and boring. NO! The MC gets stronger gradually, along with others. The story is incredible, becoming increasingly complicated as things progress into higher stakes. You will only get what I'm saying once you read past the first 30 chapters, as the story is kinda slow at first.
There's adventure, action, and friendship, with survival the only goal in this novel. The novel is complete with 551 chapters, which you can read on Webnovel.
10. Our Glamorous Time
Finally, a romance novel on the list! But this is not your typical romance novel. There's much more to see here.
Why is this romance novel good? The answer is simple: no cliches, no misunderstandings, no love triangles; just a power couple and a sweet romance.
Besides the romance, the focus of this novel is business. Fighting to boost market share, competing to win the tender, industrial espionage, and such are plugged into the novel. You can tell the author has done his research in the business world from how well the story is written.
The main character of this novel is the female lead, who is fairly strong-head, charming, and intelligent. The male lead jumps to the business world from the military. He is smart and cunning, and slowly but perfectly adapts to the business world and weaves various schemes to win business wars. Along with this business aspect, the novel shows the romance and character development between the leads in a slow but sweet manner.
The novel is complete with 82 Chapters. You can read the novel on Webnovel.
Download the Webnovel App to read thousands of novels and Comics.
---
These are my Top 10 novels from Webnovel. These are the novels that I have read and liked, and while there are definitely other great novels, these stood out as unique and well written, so I have to recommend them specifically.
What did you think about the list? Which novel would you like to recommend? Feel free to share your thoughts, and thanks for reading.