Drama Information:
Genre: Friendship, Romance, Life, Drama
Dive into Endless Stories with Webnovel
From exclusive novels, fanfics, R18 stories to popular comics like Omniscient Reader's Viewpoint, Only I level up (Solo Leveling), and Tales of Demons and Gods, Webnovel is your gateway to a universe of captivating stories.
Episodes: 16 episodes
Duration: 1hr 5minutes/ episodes
Available in: Netflix, Viki, Amazon Prime(Affiliate)
Summary:
The drama, "Cheese in the trap" directed by Lee Yoon Jung is adapted from a Korean webtoon of the same name. This drama revolves around a girl named "Han Seol" who comes from a poor family. She is an intelligent, smart, diligent, and hardworking university student. Being a kind-hearted person, she likes to help the people around her. As she belongs to a poor family she worked hard for her studies and became a straight-A student.
Her calm life was utterly disturbed by her senior named "Yoo Jung", who becomes the center of attraction wherever he goes. He was born with a golden spoon in his mouth. Girls followed him everywhere for his extraordinary good looks. He was the most popular student at the university. Han Seol wanted to get the scholarship due to her family's financial problem but she lost her chance to Yoo Jung as he was equally good in studies.
The Story
Han Seol's life started to become problematic when she met Yoo Jung at the comeback party. Starting from Yoo Jung's smile to the way he talked to people, everything seemed strange to Han Seol. He seemed like a weirdo who could easily manipulate people.
From the very beginning, Han Seol knew that engaging with him would create problems in her life which she might not be able to afford to deal with. As a result, she firmly resolved to stay away from him. But her resolution was destined to fail as staying away from him seemed impossible. Problems began to emerge and Han Seol blamed everything on Yoo Jung thinking he was the one who was responsible for creating the problems she was facing.
But later, she realizes that she was wrong about him when she comes to know that he was the one helping her in secret behind her back. Since then, Han Seol gradually started understanding Yoo Jung. Until here, the drama seems to be quite a smooth sailing.
The Turn
But suddenly, the drama takes a twist with the entry of the twin siblings named Baek In-Ha and Baek In-Ho. The siblings had a rough life since they were kids and were adopted by the father of Yoo Jung making them free from the hands of the abusive aunt. Soon, they start to get involved in Han Seol's life, adding on more problems for her. Baek In-Ha, who flaunted Yoo family's wealth tries to leech onto Yoo Jung and her father. Like any other antagonist character, she says the same "Whatever I do is for his (Yoo Jung's) sake only." The drama starts to go haywire when we see the Baek In-Ha freaking out after she gets to know that Yoo Jung and Han Seol are into a relationship.
Getting frustrated with cleaning the problems Baek In-Ha had created, Yoo Jung and his father outcast Baek In-Ha and refuse to solve her problems and clean up after her anymore. In turn, this makes Baek In-Ha frustrated. She assumes that she had lost everything due to Han Seol. She seeks her (Han Seol) out and fights with Han Seol on the road. She pushes Han Seol on the road and thus Han Seol gets into an accident. Till this point, the drama seems to be going on the right track.
The Fall
But the point that makes me want to go mad with rage was when Han Seol gets discharged from the hospital, Yoo Jung asks her to meet him in a cafe and he breaks up with her. Yoo Jung breaking up with Han Seol was understandable because it looked like he needed some time alone to figure out what was going on around him. Him breaking up with Han Seol makes her devastated. Though there was some hope that they would end up together, it was suddenly disrupted when the drama takes a 3-years leap.
In that leap, we see Han Seol successfully achieving her dream and everyone being happy except Han Seol herself. She always emails Yoo Jung which was left unseen by him. She expected that he would return to her someday. When they pass by each other while crossing the road, Han Seol thinks that maybe it's her illusion as she still can't get over him.
Thus, the curtains roll down for this drama. The viewers are with an open ending which puts them in a dilemma as to what might have happened between them. There are so many questions that are left unanswered:
Did Han Seol and Yoo Jung finally get back with each other?
Did Yoo Jung sort out his issues?
Is Yoo Jung even interested in being in contact with Han Seol?
Even if they get back into the relationship, will Yoo Jung's father accept Han Seol?
The questions go on like this. Even though the beginning of the drama was great, the open ending messed everything up. A story doesn't feel proper and complete unless its ending is meaningful and is explained properly. This was not the case for this drama.
Conclusion:
The drama was fun to watch and is still fun to watch if one is okay with the concept of an open ending. This drama's ending is very different from the ending of the webtoon because though this drama was adapted from webtoon, the filming of this drama started before the webtoon was completed.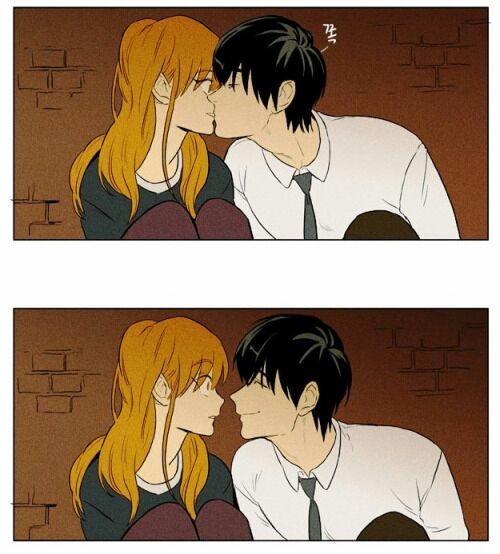 Viewers who read the webtoon of the Cheese in the Trap can see the difference between the ending of the drama and the webtoon. In the drama, it's an open ending but this is not the case for the webtoon. The webtoon ends in a happy tone. The director of this drama, Lee Yoon Jung, even personally apologized to the original author of the webtoon, Soonkki, for the open ending of the drama and requested the webtoon readers to watch this drama irrespective of its ending.
You can read the webtoon of the Cheese in the trap in Webtoons.
Main Casts of Cheese in the trap:
• Kim Go Eun as Hong Seol
• Park Hae Jin as Yoo Jung
• Seo Kang Joon as Baek In-Ho
• Lee Sung Kyung as Baek In-Ha
---
Hope you enjoyed reading my "Ranting" of Cheese in the Trap drama. What do you guys think of the open ending of the drama? I'd like to know your thoughts too.
Hello! I am Trixie. I love watching dramas and comics. This is my first time writing. Hope I did well. I will welcome all suggestions. I will bring you many dramas' reviews and recommendations. Take care 😉
Related Posts: