Hey there! Do you love fluffy things? Do you prefer stories with family relations to other genres? After a whole day filled with hectic schedules, reading some cute father and daughter manhwas are really excellent for relieving stress. Here are some very interesting manhwas which I'd like to recommend to you all.
Fluffy Father Daughter Manhwas Recommendations
Let's get started.
1. Who Made Me A Princess
Alternative: 어느 날 공주가 되어버렸다
Author: Plutus
Artist: Spoon
Raw: Here
Official English: TappyToon
Undoubtedly, this father and daughter manhwa tops my list. Whether it's the MC's cuteness or her dad's handsomeness, all are exceptional. Adding with the beautiful art, this manhwa's satisfaction rate is off the charts.
One day, the MC, who was originally a poor orphan opens her eyes to become an infant thrown to the maids for upbringing. She gradually realizes that she has become the unfortunate Princess Athanasia De Alger Obelia who was executed by her own father mercilessly at the age of 18. The story follows Athy, as the MC calls herself, meets her father and gradually develops a close and loving relationship with him.
But things go crazy when the antagonist enters the scenario. The happy pair of father and daughter go through many trials and tribulations which test their affection.
The manhwa is ongoing, and we have yet to see how Athy overcomes the hurdles and finally defeats her enemies.
2. Daughter Of The Emperor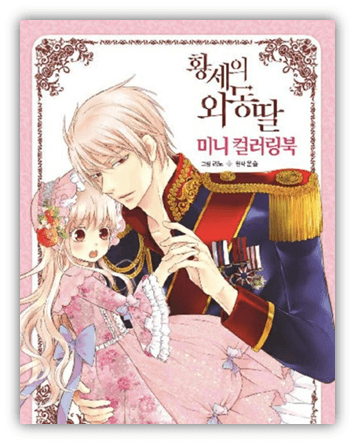 Alternative: 황제의 외동딸
Author: Yunsul
Artist: RINO
Raw: Here
Official English: TappyToon
This father and daughter manhwa shows how the bloodthirsty Emperor Caitel comes to dote on his cute daughter, Ariadna Lereg Ilestri Pre Agrigent.
The MC was a normal person from modern-day Korea who was murdered for an unknown reason and ends up reincarnating as the sole daughter of the tyrant Emperor. Her father tries to kill her but she is spared as she piques his interest. Days go by as Princess Ariadna grows up and befriends several people.
But in a desire to see the world outside the palace walls, the MC escapes incognito with her royal bodyguard. Everything goes well when suddenly the MC gets kidnapped. Her father protects her at the cost of his life. Will Ariadna be able to save her beloved father? Or will she succumb to her fate and become a curse to her father?
3. The Adventures of a Demon Lord's Daughter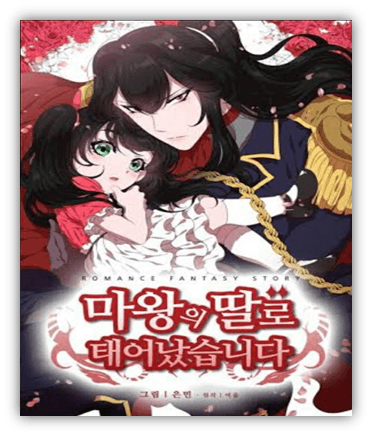 Alternative: 마왕의 딸로 태어났습니다
Author: Yeowool
Artist: Eunbin, Inballo, garamgee
Raw: Here
Official English: TappyToon
This story starts with the MC's tragic college life. In an effort to escape from her abusive aunt, Jo Ara(MC) runs out into the road and gets hit by a car.
She is reincarnated as the only child of God's favored Holy Knight, Saein, and the Demon Lord of the South, Perjunel Dion Karaben. Her name is Perjunel Nelos Irene. She grows up under the joint protection of her deceased mother's guardian angels and her father's demon assistant. But there are still unsolved mysteries that lie ahead. Such as… Who is the mysterious lady who appears in Irene's dream?
4. The Beloved Little Princess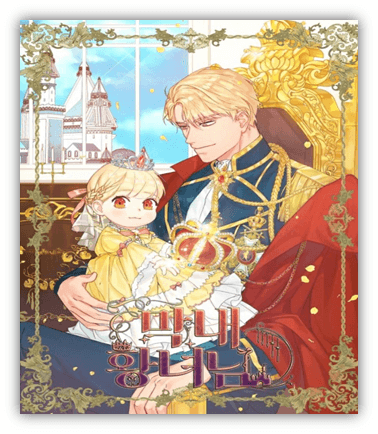 Alternative: 막내 황녀님
Author: Saha
Artist: Doldae
Raw: Here
Official English: TappyToon
What happens when the most powerful archmage reincarnates as the third princess of the Hyperion Empire? Read about the talented magician's journey as the daughter of the Emperor of an Empire called Hyperion in this manhwa.
Princess Enisha Rodgo Hyperion is the third child of the Emperor. She is said to bring endless glory to the empire. The doting father and her elder twin brothers spare no effort to adore Enisha's cuteness.
Will she really be able to glorify her nation? Will she be able to find the culprit who lead to her death and reincarnation?
5. Monster Duke's Daughter
Alternative: 괴물공작의 딸
Author: kds9120
Artist: kds9120
Raw: Here
Official English: N/A
When Lotilucia, who was kept away from the outside world meets her father, the 'monster duke', Damian Frodium, she decides to avoid him like the plague as he seems to dislike her.
However, they come face to face when Lotilucia discovers a book in her father's study which predicts her fate and sudden demise at the tender age of 10 followed by her father adopting a girl and treating her much better than his biological daughter.
What exactly is that book? Why does her father have it? And does her father really hate her? Read this manhwa to know more about Lottie and her life.
6. Am I The Daughter?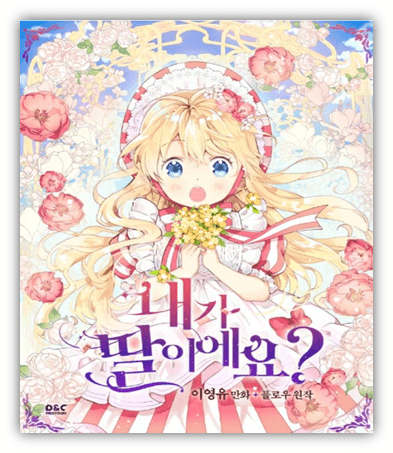 Alternative: 내가 딸이에요?
Author: Plow
Artist: Lee Young You
Raw: Here
Official English: N/A
Hailynn is reborn on the day when her nightmarish days of torture began. Her adoptive father, Count Zachary abused her and kept her locked away in a house surrounded by nothing but fields. She was promised freedom on her 18th birthday, but she ends up dying from a sudden fire and traveling back to her 7-year-old self.
To rescue herself from his clutches, Hailynn rushes outside the carriage and encounters a little boy and a man with blonde hair just like her. People around them suspect her being his daughter but the man adamantly denies it. What is his relationship with Hailynn? Can the innocent Hailynn conquer the cold-hearted man?
7. I Became A Doting Father
A story about a 5-year-old little girl who was mistreated by her father. But when her father died she begins to live with her relative who is unmarried and a 25-years-old part-timer. Since her relatives were planning to put her in an orphanage, he decided to take her in and raise her as his daughter.
The story continues as she adjusts to her new life with her adoptive father and how she begins to find happiness with her new father. And of course, melting our hearts with fluff and cuteness in the process.
8. My Daughter is a Music Genius
The main character was obsessed with music and devoted his entire life to it, neglecting his daughter in the process. He soon began to feel bad about it for the rest of his miserable life. He passed away instantly, but when he opened his eyes, he discovered ten years in the past. MC promises to be a better father this time. In addition, he discovers his daughter is a musical prodigy while caring for her.
Bonus Recommendation: Beauty and the Beast
---
Do you guys have some suggestions too? What are your favorite father-daughter manhwas? Do tell me if you have. I'd love to hear from you. Sincerely, Anais (⌒‿⌒)
---
Also Check out these related articles:
25 Best Manhwas to Read For Female Readers
Top 10 Best Manhwa You Need to Read