Here is the list of 45 TOP HOT MANHWA, MANHUA, AND MANGA GIRLS.
Dive into Endless Stories with Webnovel
From exclusive novels, fanfics, R18 stories to popular comics like Omniscient Reader's Viewpoint, Only I level up (Solo Leveling), and Tales of Demons and Gods, Webnovel is your gateway to a universe of captivating stories.
1/45
With beautiful blonde hair and mesmerizing eyes, Cha Hae-In won every reader's heart in her very first appearance itself. Not only is she beautiful and caring, she is also a badass. She is the only female s-rated hunter in Korea, and she is the strongest of them all. She is the perfect role model of beauty with brains.
2/45
Yoo Sangha, from the Omniscient Reader's Viewpoint, is a powerful badass with sleek white legs and a firm body. Her power is unmatchable. While maintaining her mystery about how she got so powerful, she manages to be one of the supporting characters in the manhwa. She is soft and delicate with beauty so hypnotizing; you won't be able to resist her.
3/45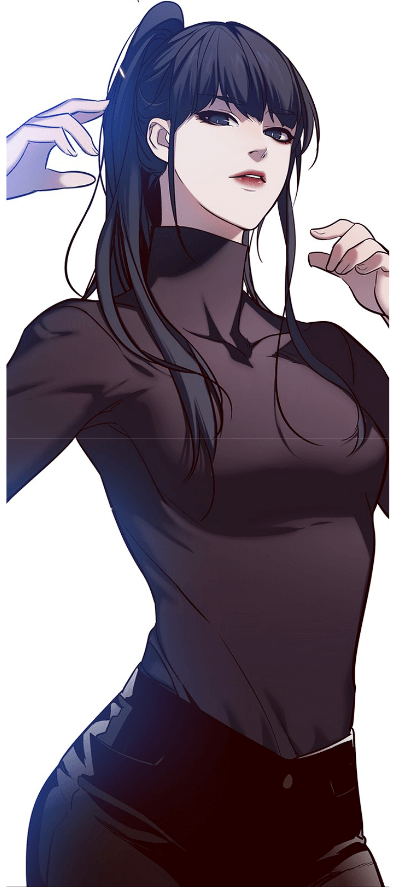 Jiyoung Yoo is a very compelling character in the Eleceed series. Forced into becoming a chairman at a very young age, she has time and again proved to be of the great calibre to achieve anything she sets her mind on. With regards to her looks, she has beautiful long black hair, a firm curvy body, and usually carries a poker face.
4/45
Black witch from SSS Class Suicide Hunter is extremely hot with her beautiful dark hair and amazing body. She is a rank-2 hunter and the guild master of "Black Dragon Guild". She is sensitive and thoughtful, but also scary and extremely powerful. Her personality makes her even more so attractive. She wishes good to the people and hopes that people don't suffer the way she did.
5/45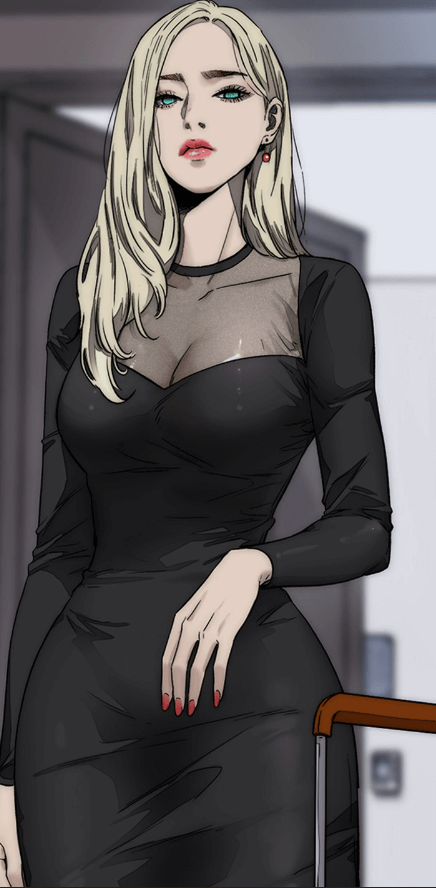 With green eyes, long blonde hair, and an impressive set of skills, Shelly Scott has managed to be one of the most popular manhwa girls. She is the only female member of the Humming Bird Crew. Her headstrong attitude and stamina make the members of the crew jealous of her skills. In a short span of time, she has managed to get the respect and admiration that she rightfully deserves.
6/45
She is an extremely beautiful woman with long blonde hair, blue eyes, big breasts, a slender waist, and a perky firm butt. Even one of her nicknames in the manhwa is "Total Babe". She is very rich and strong, and one of the most desirable women in the manhwa world.
7/45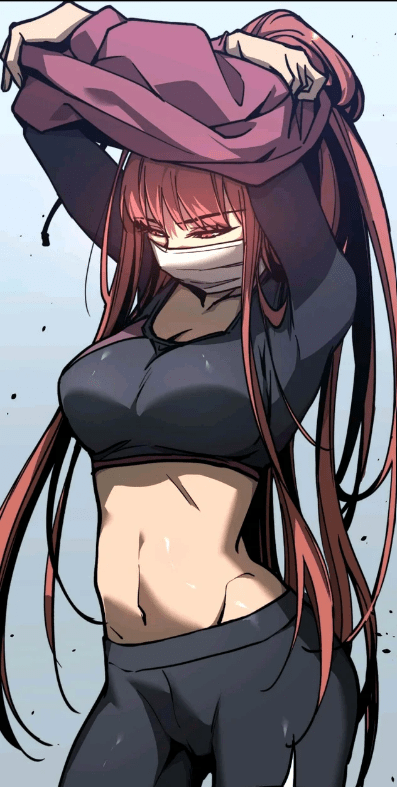 She has long red hair, a supple butt, big breasts, and a firm white body. With incredibly irresistible looks, she also carries a badass yet cute aura around her. And it's a combination we all love. While on some panels she is cute and adorable, there are many panels where she is really hot.
8/45
Those who have read Chainsaw Man and those who haven't, know Makima. She is the kind of hottie who would let you touch her breasts if you prove useful to her and bark for her. She manages to be one of the most powerful women in the entire Chainsaw Man series which just adds to her charm.
9/45
She is a very sweet and caring woman, who is also a pretty strong Shinigami. She is known for her ample bosom that she doesn't mind showing off. She has lustrous blonde hair, blue eyes, and full lips. She is the literal reincarnation of a goddess in terms of beauty.
10/45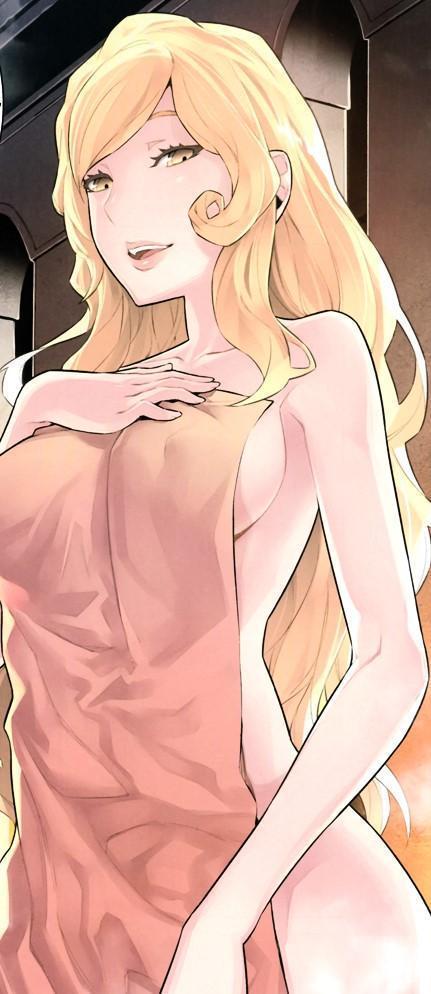 Demeter is a beautiful woman with long golden honey-colored hair, large breasts, fair skin, and a thin waist. She is usually seen wearing a long, light pink colored dress that hugs her body perfectly.
11/45
Shen Xiu is a 3-Star Silver Demon Spiritualist. She is very attractive but her personality is filled with pride and arrogance. In her first appearance, she was seen wearing a lavender dress that hugged her curves and perky breasts. Along with the dress, she wore a furry yellow overcoat that made her look elegant.
12/45
Li Yalin, from My Girlfriend Is A Zombie, is extremely beautiful and attractive with long blonde hair, yellow eyes, and a large bosom. Moreover, she is kind of adorable and cute in many panels. She is bound to make you laugh and also attracted to her.
13/45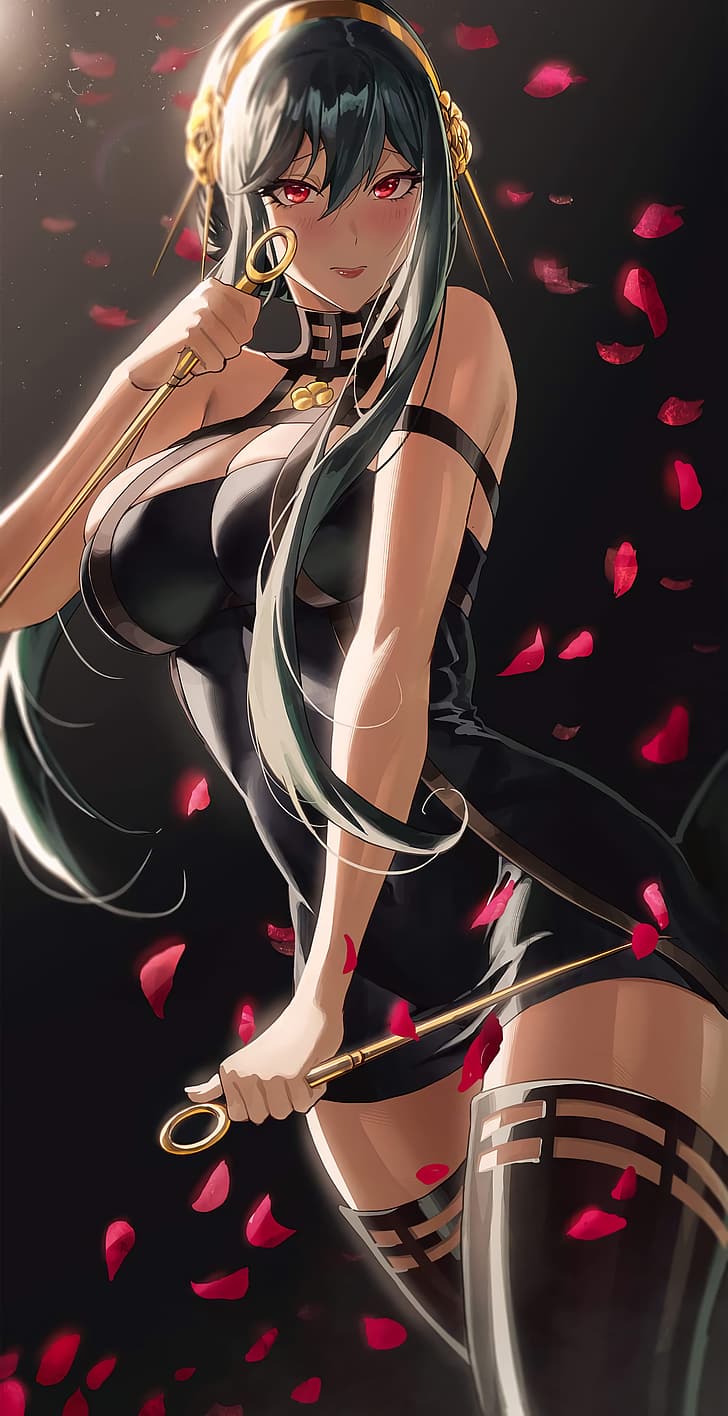 Whether you like a caring and supportive character or one who could overpower you, Yor comes as a full package of it all. She has long black hair, smooth white skin, supple breasts, and a slim waist. Not only is she an elegant and dutiful member of society, but is also a hot and deadly assassin.
14/45
With impeccable beauty, Albedo is a woman with jet black hair, a curvy body, horns protruding out of her temples, and a beautiful pair of black wings protruding out of her waist. Her immense beauty is only rivalled by her ruthless personality and absolute obedience and service to her master. One can tell why only her programming was specifically altered. Her white outfit does well to show why she deserves a place on this list.
15/45
Yuna is a character from the manhwa Mercenary Enrolment. She has lustrous black chest-length hair, pale white skin, and a beautiful curvy body. She is usually seen in her school uniform which consists of a white shirt, grey blazer, brown skirt, and black stockings. Her calm demeanor just makes her even more elegant.
16/45
She is a cat tribe warrioress who takes great pride in her skills and movements that exceed that of humans. Another thing she can take pride in is her beautiful long hair, her adorable cat ears, and her immensely attractive body. Her figure is very well emphasized when she wears her "night suit".
17/45
If you want a woman who will obey you at all times, Shion is who you're looking for. With a large bosom, a horn protruding out of her forehead, and long lavender hair, she has proven to be a beauty in this isekai manga. Even though she is kind of a clutz and an airhead, she is fierce in battle.
18/45
Lilia is the main character's babysitter. She is inhumanely strong, gives major mommy vibes and is well trained in Russian martial arts. Not only that, but in her white tank top and skinny jeans with her blonde hair tied up, she can easily make your heart skip a few beats. And if that wasn't enough, she has a twin sister.
19/45
They are very powerful summoning sisters who protect the divine beast in the popular manhua Her Summoner. Along with power, the art brings out their lustrous body and impeccable features. Their attire emphasizes their soft great breasts, shiny white skin, and their slim waists.
20/45
With beautiful tanned skin, wavy blonde hair, and again, big breasts, she has it all. And while this was enough for us to fall for her, there is something more to her. She is a very professional businesswoman with a couple of funny and cute panels as well.
21/45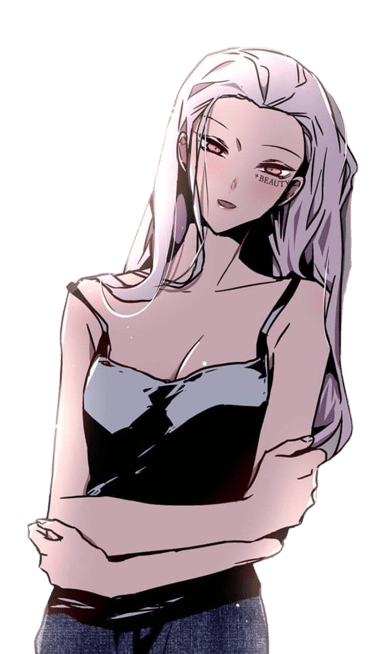 San from Nano List is a bodyguard android who is tall, has silvery-white hair, and beautiful pink eyes. To add to it, she also has a tattoo just below her left eye. She genuinely seems to love and care for the main character, regardless of her image being rather foul-mouthed.
22/45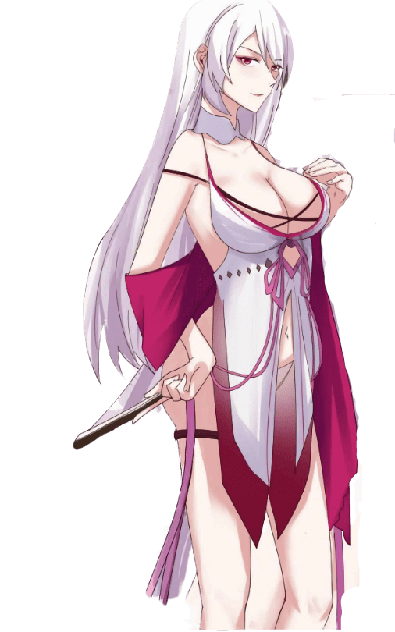 Even in the manhua Martial Peak, Shan Qing Luo is described to be one of the most seductive women. She has a playful personality and is among the most forward of Yang Kai's views. She has silvery-white hair that reaches her waist and mesmerizing red eyes that totally accentuate her profile. She is seen wearing a revealing white and red robe that emphasizes her slim legs, and large breasts.
23/45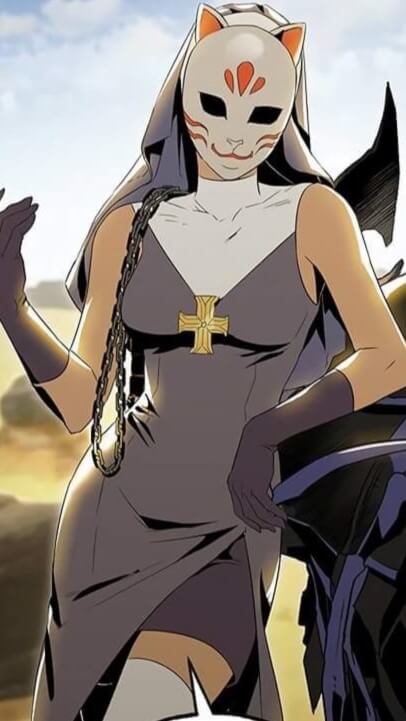 Her real name being Elwin Esau, Starlight Bluefox, is a member of the Red Flake and is its summoning nun. As the name suggests, she wears a nun outfit that perfectly fits her body and a mask with black gloves. And if that wasn't convincing enough, she also rides a bike.
24/45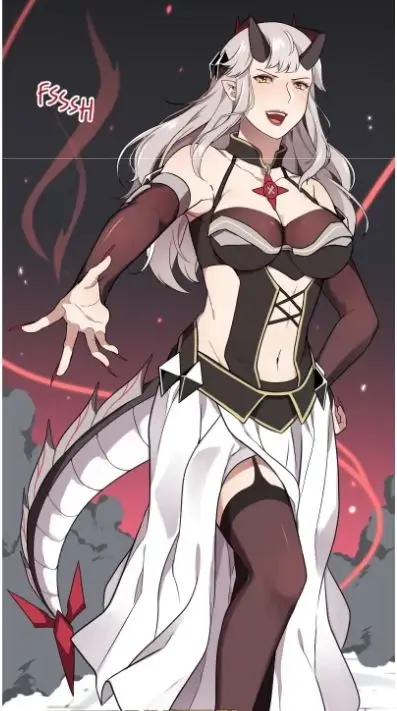 The current Demon Queen of the demon tower is known for her cruel and merciless behavior. She is also known to be a tsundere. And of course, she has horns protruding out of her temples. Other than that, she has wavy silver hair that reaches her chest, she also has a dragon tail. Her ensemble perfectly reveals her slender waist, slim legs and big bosom.
25/45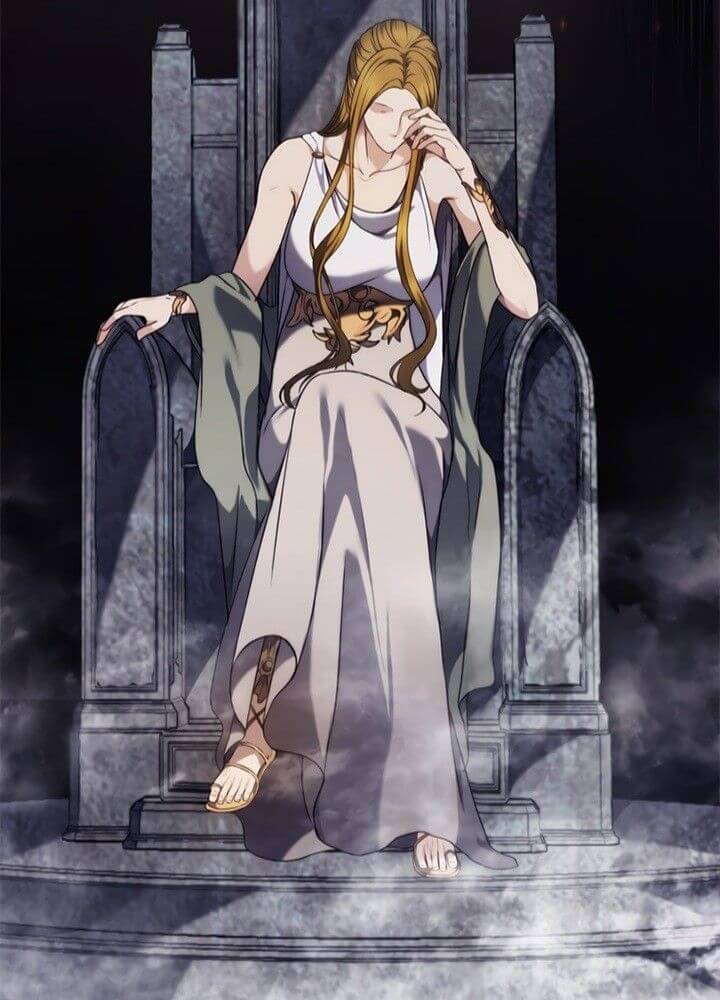 Urd is known to be incredibly manipulative and uncaring. Her merciless, and unempathetic nature is characteristic of her nature. She is seen to wear an elegant and long white dress that accentuates her breasts and waist impressively. Her lustrous long blonde hair reaches her waist and is usually tied up. She really does look like a goddess.
26/45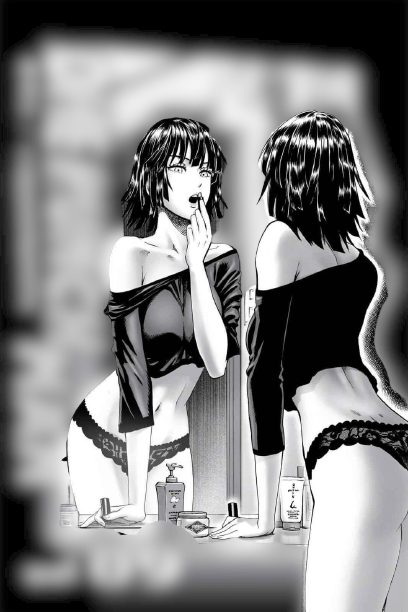 Also known as Miss Blizzard/Blizzard of hell, is a B-Class Rank 1 professional hero of the hero association. She has a curvy figure, a short bob dark green hair, and light green eyes. Her attire is usually a long white fur coat, a beautiful and elegant dark green dress that fits her beautiful curves impeccably.
27/45
Irina is the English teacher of Class 3-E of Kunugigaoka Junio High School in the manga Assassination Classroom. She is a tall, fair-skinned woman with wavy blonde hair that reach her hips, she has light blue eyes and a seductive curvy body.
28/45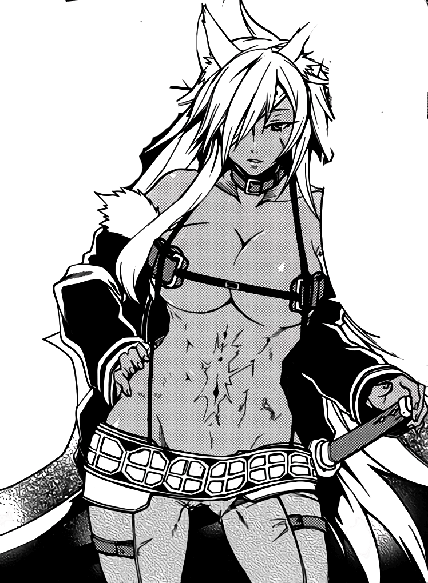 Ghislei is a talented and strong swordswoman from the beast race. Her power is so unmatchable, that she is one of the few people who have become the Sword King. She has a beautiful tanned body with silver hair and is more on the muscular side. Nevertheless, her huge breasts and firm body make her irresistible.
29/45
Alice from Solo Max-Level Newbie is another one of the most desirable women in the manga world. She is usually seen wearing black; a black tight dress, black thigh-high stockings, and a black cape. She has beautiful, straight silver hair with bangs in the front. One glance at you and you'll be mesmerized by her features.
30/45
Similar to many of her races, she is shown to be a beautiful elf. She has a curvy figure, with wavy blonde hair, wide hips, and slim legs, and is always seen in her battle outfit with her estoc and buckler.
31/45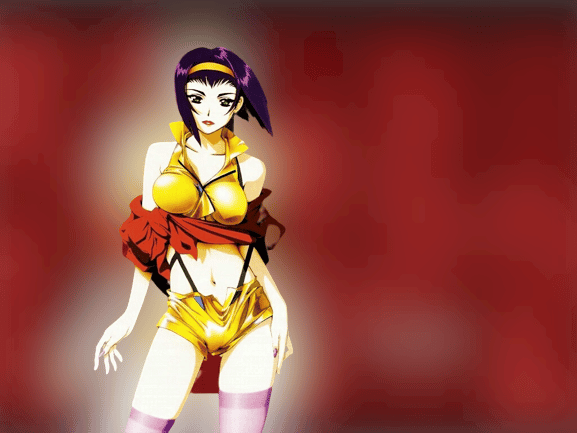 This beautiful young woman is a member of the bounty hunting crew which comprises Spike and Jet Black. She has short dark purple hair, and green eyes, and is tall with pale skin. She is usually seen wearing yellow shorts, a yellow buttoned shirt, white boots, and a loose red jacket. She is indeed one of the most seductive women in the anime/manga universe.
32/45
Laella has massive breasts, mesmerizing green eyes, orange hair, and a slender body with a supple butt. While she is extremely pretty, she is also pretty strong when it comes to fighting. She fights fair, believing that fighting magicians is not just about looking cool.
33/45
As the name very evidently suggests, the main character in this manhwa is stuck with his girlfriend and her twin. Well, stuck isn't really the word. Both sisters have beautiful and thick bodies. Thick thighs, a huge ass, big boobs, short hair, the sisters have it all.
34/45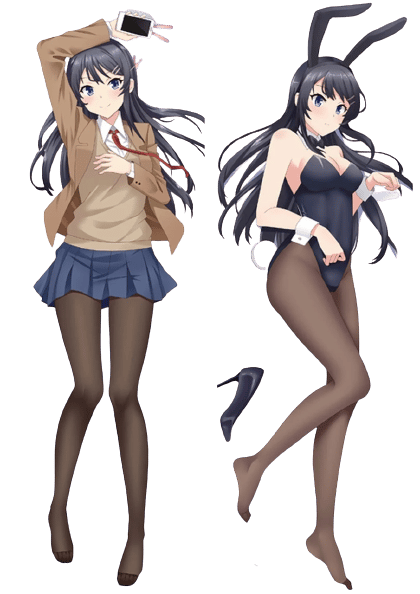 Our very favorite Bunny-girl senpai. She is so famous that even non-anime/manga watchers know her. And as her name suggests, she wears a black colored bunny outfit, with black bunny ears, and a fluffy white bunny tail. The bunny costume fits her waist, chest, and ass so impeccably, that you would want a Mai-san for yourself.
35/45
Yan Ji is beautiful with ethereal features and mesmerizing beauty. She has long red hair that reaches her waist, scarlet eyes, and fair smooth skin. She is shown to sport a white bodysuit with a maroon overcoat. Her outfit seems to accentuate her supple big breasts and thick thighs. Not only that, but she is also shown to be soft and straightforward.
36/45
One of the most famous harem manga/anime, High School DxD has some really hot characters. Rias Gremory is an adorable yet hot character with red hair that crosses her waist. She has supple and firm breasts and fair skin.
37/45
Her character is exceptionally known for her beautiful tanned body. Her curvy, sensual body, full lips, big chest, and scarlet eyes make her extremely attractive rightfully so. Although she is hot-tempered and aggressive, she is pretty helpful and thoughtful too.
38/45
With silky red hair, scarlet eyes, a huge bosom, and thick thighs, Shin Hye Park has won everyone's hearts and minds. She is a powerful woman in the manhwa, who seems to sport any and every look. Although (SPOILER ALERT) she's dead.
39/45
Shu has blonde hair and golden eyes and usually wears a black long-sleeve dress and wears a light purple swimsuit underneath her dress. Her curvy beautiful body, and big breasts, are her other characteristics. To add to it, she has a great sense of humor and is a little bit crazy as well.
40/45
A teacher of practical magic lessons, Ms Yue is extremely attractive with long brown hair that is usually tied up, mesmerizing brown eyes, and a huge bosom. If that wasn't enough, she has a beauty mole under her eye and is sassy and smart.
41/45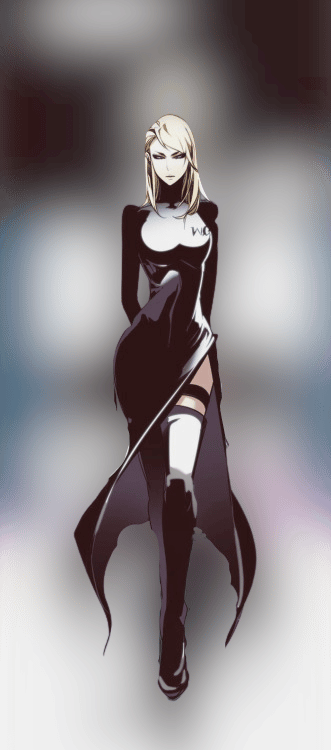 Also known as Lee Ina, is tall, has a slender body, with straight blonde hair. She is typically seen to be carrying a poker face all the time and is indifferent to most things. She is smart and intelligent, and follows the rules and disciplines diligently, all of which just makes her even hotter.
42/45
Adorable, sassy, and bratty. That is power. She is a fiend in Chainsaw Man, and is definitely very attractive. With horns protruding out of her head, big breasts, and a firm body, power will definitely steal your hearts.
43/45
Ariadoa, also known as Aria, is Ristarte's close friend in the Realm of Gods. She has short red hair, brown eyes, a big bosom, and a supple butt. Her blue dress shows off her slim waist, and breasts very well. Along with the dress, she also wears a blue choker to go with it.
44/45
One way you could summarize Rumi's characteristics is by her athletic build. Of course, she is strong. Another characteristic of her could be that she is tanned, with red eyes, and long white hair. Her hero costume consists of a sleeveless white leotard with purple thigh-high boots; the entire ensemble makes her look like a rabbit.
45/45
In a list of hot 2d women, Mary Kim is a must-add. She is a student of the Vocal and Dance Department of the J High School. She is tall, has pale skin, dark blue eyes, a slim waist, a large bosom, and long wavy blonde hair that reaches her waist, Mary Kim will definitely make your heart skip a few beats.
With the CPU heating up, these ladies have left us wanting more. The top 45 hottest manhwa girls, of course, have different girls for different people. Who else should be on the list? Let us know!